KARACHI: The administration of a street school in Karachi educating underprivileged children for free claims it is receiving threats to close down by an official of a government-backed public sector organisation.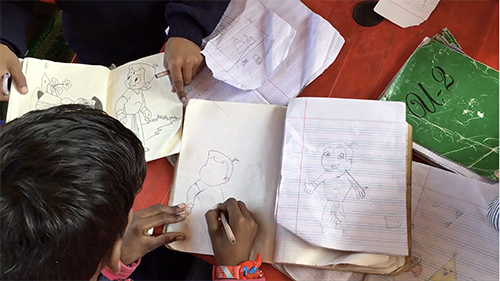 Syeda Anfas Ali Shah Zaidi, who has been running the Footpath school near the Abdullah Shah Ghazi shrine in Clifton for the past three years, accused the Sindh Education Foundation managing director Naheed Durrani of making the alleged threats, asking them to close down the school within two days.
Speaking to Geo News on Tuesday, Zaidi said an initial meeting was held with the SEF official in which she claims she was addressed in an inappropriate tone.
"The way we are running the school, the entire world is watching," said Anfas.
The school's students have refused to be moved to any other institution, she said.
Responding to a question, Zaidi said they were ready for any kind of audit, adding that the school's administration was "on the roads and working in front of everyone on a daily basis".


However, while speaking to Geo News, Naheed Durrani said there were other venues present for collaboration between the civil society and the government on social issues.
She further said the issue is about protecting street children, who are already vulnerable and are near to a shrine.
Durrani maintained the entire matter was to mainstream the children and rehabilitate them.
She further said that her organisation was a part of the government and not an NGO, and is only trying to merge the school.


1.2 million children on the streets
An estimated 1.2 million children are on the streets of Pakistan's major cities and urban centers, constituting the country's largest and one of the most ostracised social groups, according to a 2012 study titled 'Surviving the Streets' by Society for Protection of Child Rights (Sparc).
Most such children, who either spend the night on the streets, or those who earn a living on the streets, are between the ages of nine to 15 years and earn a monthly income of Rs 4,000 a month, the study stated.


Pakistan has an estimated 50 million school-age children.
The federal government has pumped money into schooling, with the education budget swelling by 15 percent every year since 2010, according to education consultancy Alif Ailaan.
Despite the rise in education budget and an estimated 220,000 schools nationwide, the country has over 20 million out-of-school children, according to a 2016 government report.
In Sindh, as many as six million children are out of school, according to provincial chief minister Murad Ali Shah.
The province might have led others in passing article 25-A in the assembly, a law which recognises free education for children aged between five and 16 as a fundamental right, but it has lagged behind when it comes to its implementation.
https://www.youtube.com/watch?v=AVeVpoaanNw
Do you like this post?
---
@movesolpeacepk
tweeted this page.
2018-02-24 06:29:21 -0500
Msp Admin
published this page in
MSP is on the Move
2018-02-24 06:23:33 -0500