Condemning the death of Dr Hasan Zafar Arif and calling it a "brutal murder", members of the civil society held a news conference at the Karachi Press Club on Tuesday, followed by a demonstration.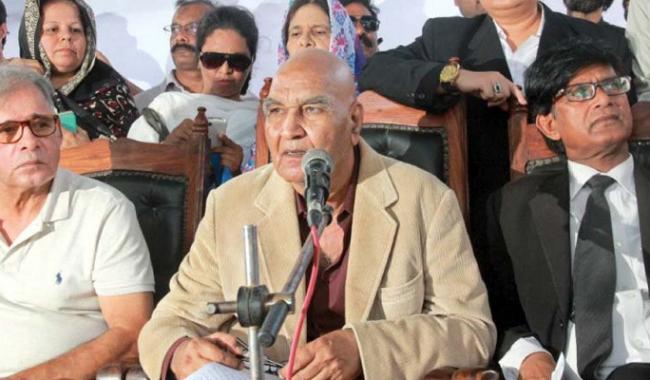 Headed by Human Rights Commission of Pakistan (HRCP) Vice Chairperson Asad Butt, the call to protest was also joined by the Tehrik-e-Niswan's Sheema Kermani, the Aurat Foundation's Mahnaz Rahman, the National Trade Union Federation's Nasir Mansoor, teachers Dr Riaz Ahmed and Dr Tauseef Ahmed and trade unionist Razi Mansoor.

The body of the intellectual, a member of the Muttahida Qaumi Movement-London, was found in his car in Rehri Goth on Sunday, two days after he had gone missing. Terming it an "extrajudicial killing", the civil society demanded answers from the law enforcement agencies, especially pertaining to the Jinnah Postgraduate Medical Centre's post-mortem examination report that declared Dr Hasan's body did not bear any torture marks.
Speaking about Dr Hasan, Butt said he was a renowned figure who always chose to stand with the oppressed against all odds. "He was one of the founding members of the HRCP and used to be present at the Nursery office that he had opened himself in 1985. He was also the president of its Karachi chapter."
Mansoor said, "It's saddening to see that a man who stood against the tyrannical regime of military dictator Ziaul Haq was killed mercilessly during a period of democracy." Butt stressed that the cycle of "enforced disappearances" and "extrajudicial killings" would only lead to lawlessness, as the youth would find such measures justifiable and would also engage in violence.


Sheema lamented that it was a sorry state of affairs that intellectuals who taught generations were now being hunted down over differences of opinion. "We have said this time and again that the tactics of the state to silence all kinds of dissent will only fuel hatred and anger. How do we expect to have a progressive society when we continue to target individuals like Dr Hasan, who was an intellectual?"
The civil society activists demanded that a thorough investigation be conducted into the case and that all those responsible be presented before a court of law. They also observed a minute of silence before staging a protest outside the press club.
Dr Hafeez Jamali of the Habib University said, "We are here to honour the services of a great teacher. He was Ustaadul Asatiza [teachers' teacher] and was among the pioneering human rights activists. His killing is unacceptable because it's a murderous attempt on education."


Nida Kirmani, researcher and faculty member at the Lahore University of Management Sciences, felt that the series of violent incidents had escalated in the past few years and that the trend could be seen through a spate of missing persons' cases and an increasing climate of fear and intimidation.
"What looks like Dr Hasan's murder is the pinnacle of this kind of environment. As an educationist, his killing is particularly shocking because he had contributed immensely to the intellectual fabric of the city, hence his murder crosses all boundaries of expectation."

                                                                                   

                                                                                       MSP
                                                                                       
Do you like this post?
---
@movesolpeacepk
tweeted this page.
2018-01-18 08:42:46 -0500
Msp Admin
published this page in
MSP is on the Move
2018-01-18 08:40:26 -0500