DADU: At least 72 people were killed and scores of others were wounded when a  suicide bomber struck Lal Shahbaz Qalandar Shrine in Sehwan Sharif on Thursday, officials said.





Children and women were among the victims. The death toll is feared to go up as many of the injured are in critical condition.

Senior police officer Shabbir Sethar told Reuters from a local hospital that the death toll was likely to rise.

"At least 72 are dead and over 150 have been injured," Sethar said by telephone

The explosion took place at the spot where the dhamaal (Sufi ritual) was being performed, within the premises of the shrine.

At the time of the blast, there were thousands of people gathered at the spot to view the performance. The sufi shrine is frequented by thousands of devotees and pilgrims on a daily basis.

According to reports reaching here, more than 100 people, including children and women, have been injured in the suicide blast.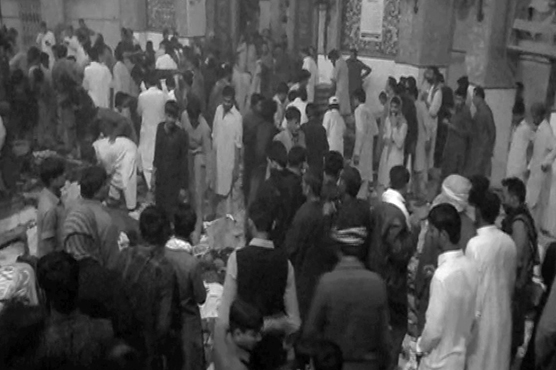 The explosion was heard far and wide in Sehwan Sharif town.


Hyderabad Commissioner Qazi Shahid Pervaiz confirmed that there were reports of blast at the shrine. "Emergency has been declared in all hospitals of Hyderabad, Jamshoro and Sehwan Sharif," he said.

The commissioner said that the blast took place outside the shrine.

The injured are being shifted to Liauqat Medical College, Jamshoro and other hospitals of Dadu and Hyderabad.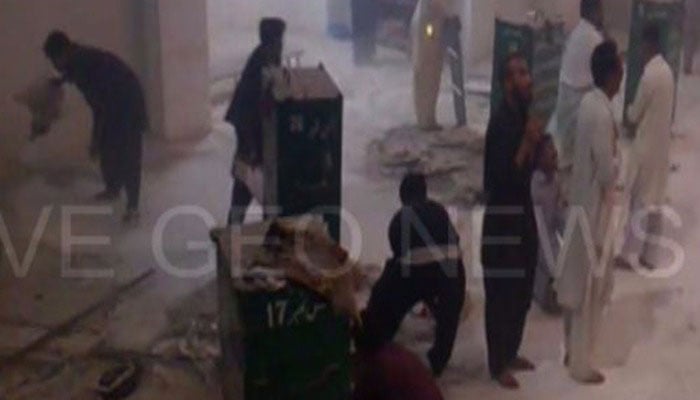 A rescue worker said that at least 55 to 60 people had died and nearly 500 to 600 others injured. The victims include women, children, old and young.

Edhi Foundation chief Faisal Edhi said that all ambulances in the nearby cities were sent to Sehwan Sharif to transport the injured to hospitals.

"According to information, dozens of people have been injured in the blast," he said.

MS Sehwan Sharif Hospital said that 20 people had already died and more than 50 were in critical condition.

This is not the first time a Sufi shrine has been hit by terrorists.

In November last year, a suicide blast at Shah Noorani shrine killed 52 people and injured more than 100.

PM condemns terrorist attack


KARACHI: Prime Minister Nawaz Sharif on Thursday strongly condemned a suicide attack on Lal Shahbaz Qalandar Shrine which killed at least 25 people and left scores of others wounded.

"The attack on the shrines of Lal Shahbaz Qalandar represents an attack on the progressive, inclusive future of Pakistan; one where every man women and child is entitled to life, liberty and property in the pursuit of happiness no matter their religion," a statement by PM Sharif said.

"An attack on one of us, is an attack on all," he said.

"The Sufi people predate Pakistan, and formed an important part in the struggle for it's formation.

"Any attack on them, is a direct threat to the Pakistan of Jinnah and will be dealt as such. The past few days have been hard, and my heart is with the victims. But we can't let these events divide us, or scare us," he said.

"We must stand united in this struggle for the Pakistani identity, and universal humanity."

"We have faced tougher circumstances, and still persevered. I will do everything in my power to protect this country, and what it represents."

 
                                                                             


                                                                                 MSP
Do you like this post?
---
@movesolpeacepk
tweeted this page.
2017-02-16 12:43:08 -0500
Msp Admin
published this page in
MSP is on the Move
2017-02-16 12:36:51 -0500